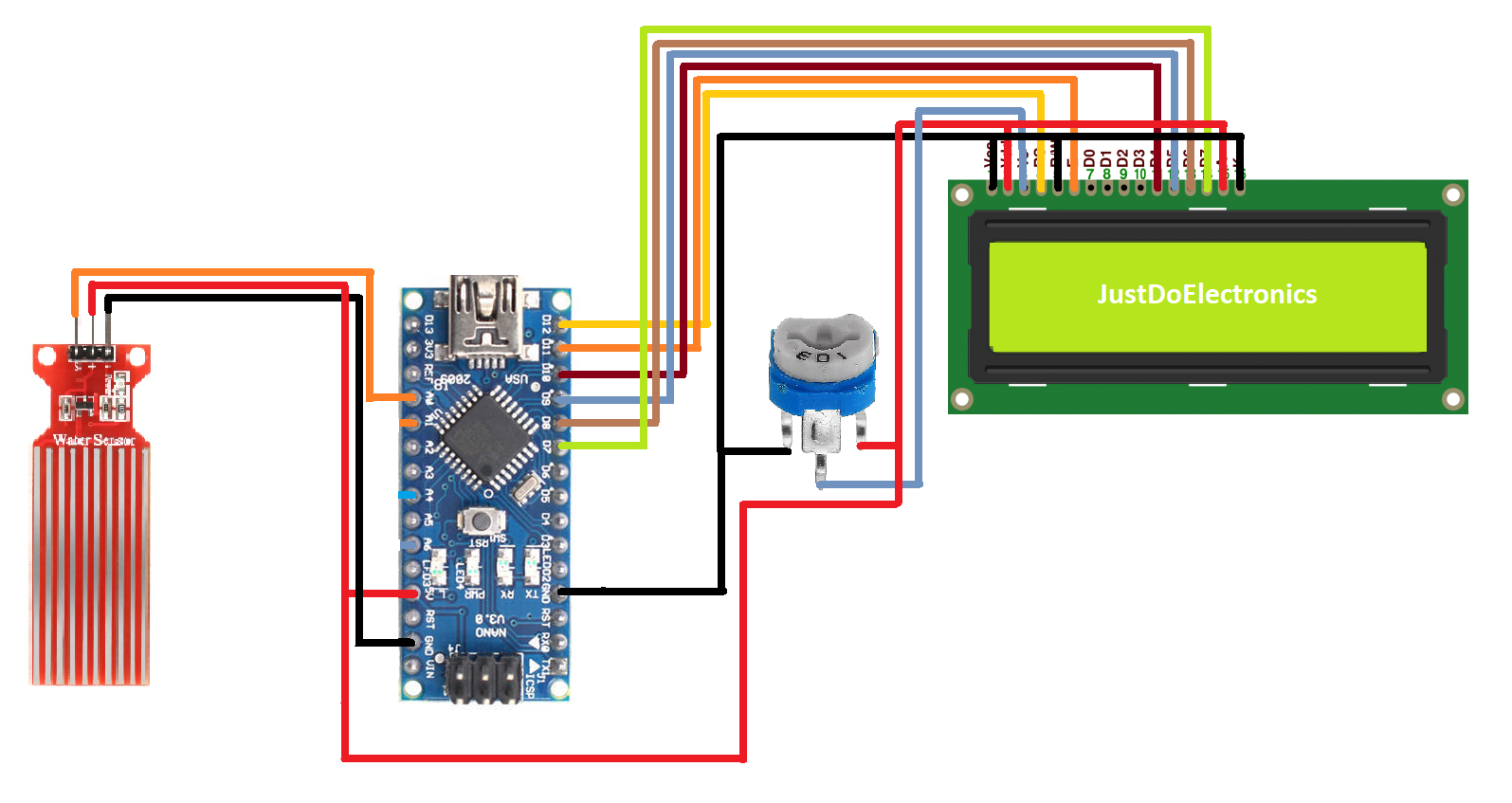 Overview
In This Tutorial, I will show how you interface the Water Level Sensor With Arduino Nano Microcontroller And How You Write the Code.
Water Level Sensor
The water Level Sensor Has a series of parallel exposed traces to measure droplets/water volume in order to determine the water level.
The water level sensor is easy to monitor the water level as the output to analog signal Is Directly proportional to the water level.
The ADC Pin is Directly connected to the Arduino's analog PIN.
Features:-
Voltage:- DC 3-5v
Current:- 20mA
Sensor Type:- Analog
Humidity:- 10% – 90% 
Water Level Sensor Pinout

VCC – 5v
GND – GND
Signal – A0
Wiring Diagram Water Level Sensor With Arduino
Testing Of Water Level Sensor
Display Water Level Sensor Reading In Serial Monitor
Code
1

2

3

4

5

6

7

8

9

10

11

12

13

14

15

16

17

18

19

20

21

22

23

24

25

26

27

28

29

30

31

32

33

34

35

36

37

38

39

40

41

42

43

44

45

46

47

48

49

50

51

52

53

54

55

56

57

58

59

int

lowerThreshold

=

300

;

int

upperThreshold

=

440

;

pinMode

(

sensorPower

,

OUTPUT

)

;

digitalWrite

(

sensorPower

,

LOW

)

;

pinMode

(

yellowLED

,

OUTPUT

)

;

pinMode

(

greenLED

,

OUTPUT

)

;

digitalWrite

(

redLED

,

LOW

)

;

digitalWrite

(

yellowLED

,

LOW

)

;

digitalWrite

(

greenLED

,

LOW

)

;

int

level

=

readSensor

(

)

;

Serial

.

println

(

"Water Level: Empty Range"

)

;

digitalWrite

(

redLED

,

LOW

)

;

digitalWrite

(

yellowLED

,

LOW

)

;

digitalWrite

(

greenLED

,

LOW

)

;

else

if

(

level

>

0

&&

level

<=

lowerThreshold

)

{

Serial

.

println

(

"Water Level: Low Range"

)

;

digitalWrite

(

redLED

,

HIGH

)

;

digitalWrite

(

yellowLED

,

LOW

)

;

digitalWrite

(

greenLED

,

LOW

)

;

else

if

(

level

>

lowerThreshold

&&

level

<=

upperThreshold

)

{

Serial

.

println

(

"Water Level: Medium Range"

)

;

digitalWrite

(

redLED

,

LOW

)

;

digitalWrite

(

yellowLED

,

HIGH

)

;

digitalWrite

(

greenLED

,

LOW

)

;

else

if

(

level

>

upperThreshold

)

{

Serial

.

println

(

"Water Level: High Range"

)

;

digitalWrite

(

redLED

,

LOW

)

;

digitalWrite

(

yellowLED

,

LOW

)

;

digitalWrite

(

greenLED

,

HIGH

)

;

digitalWrite

(

sensorPower

,

HIGH

)

;

val

=

analogRead

(

sensorPin

)

;

digitalWrite

(

sensorPower

,

LOW

)

;
Display Water Level Sensor Reading In LCD Display
Code
1

2

3

4

5

6

7

8

9

10

11

12

13

14

15

16

17

18

19

20

21

22

23

24

25

26

27

#include <LiquidCrystal.h> //Libraries

LiquidCrystal

lcd

(

12

,

11

,

10

,

9

,

8

,

7

)

;

int

value

=

analogRead

(

A0

)

;

}

else

if

(

value

>

1

&&

value

<

50

)

{

}

else

if

(

value

>

50

&&

value

<

150

)

{
If You are Interested In More Projects Then Plz Check Out 
Video