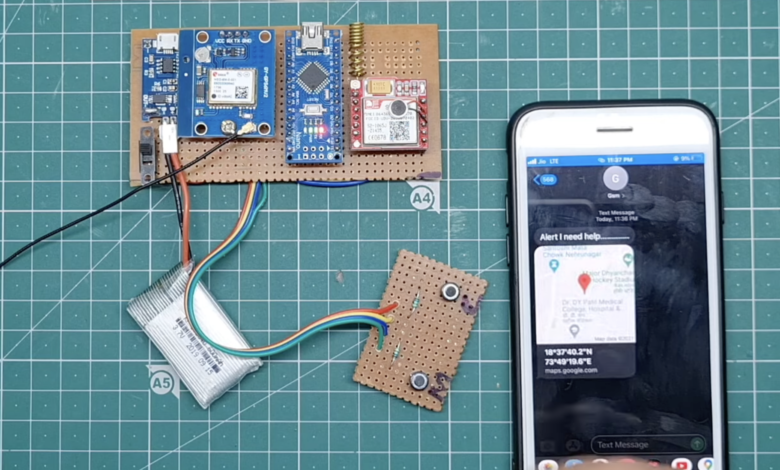 Arduino Projects
Build Your Smart GPS Tracker System Using Arduino
GPS Tracker Using Arduino
Introduction 
GPS System is very commonly used in every field Like Vehicle Tracking, Human Tracking, Ship Tracking And Bicycle Tracking System. In this tutorial, I will also soon the latitude and Longitude (GPS Coordinates) And Speed.
Small GPS Tracker is used component's GPS Neo-6m, Sim800l, Arduino Nano,16×2 LCD Display, Push Button And Buzzer.
We Have Also Build Many types Of Vehicle Tracking Systems If You are Interested Then Plz Check Out
Bill Of Materials
All impotent Component Are Required To Make This Project

Arduino Nano

This one is the Pin Diagram of Arduino nono microcontroller
GSM Sim800l Module

LM2596 Step-Down Conveter

GPS Neo-6m Module

Push Button

10K Resister

16×2 LCD Display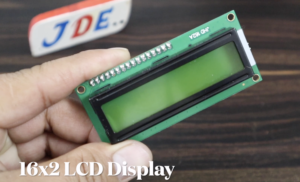 Zero PCB

Block Diagram
PCB Design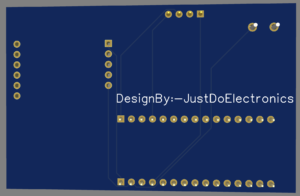 Circuit Diagram
These all are the circuit diagram for different connections We just flow the circuit diagram and Upload the proper code.
Circuit Diagram 1
In this circuit diagram, we just connect to the GPS Module, GSM Module And Push Button Only. And I providing the 3.7v dc supply with the help of the LM2596 Step-Down Converter.
GSM Connection
VCC – VCC
Tx – 8
Rx – 9
GND – GND
GPS Connection
VCC – VCC
Tx – RX
GND – GND
Push Button
Circuit Diagram 2
Now, In this Circuit, I will Connect to the 16×2 LCD Display And when We press the push Button the LCD Will Display The "Push Button Is pressed" And IS also Display the GPS Coordinate.
LCD Connection
GND – GND 
VCC – VCC
SDA – A4
SCL – A5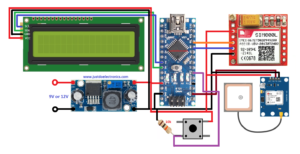 Circuit Diagram 3
In this circuit diagram, we just connected the OLED Display To the Arduino nano microcontroller the OLED displays the current location of the GPS.
OLED Display Connection
GND – GND
VCC – VCC
SDA – A4
SCL – A5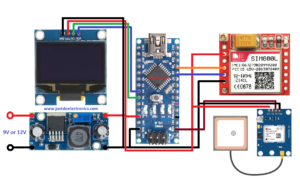 Source Code
Code 1
Before uploading just Change the number
char

phone_no

[

]

=

"+91xxxxxxxxxx"

;
We Just Add the Library and change the Mobile Number them you upload the Code
1

2

3

4

5

6

7

8

9

10

11

12

13

14

15

16

17

18

19

20

21

22

23

24

25

26

27

28

29

30

31

32

33

34

35

36

37

38

39

40

41

42

//www.justdoelectronics.com

#include <SoftwareSerial.h>

SoftwareSerial

Gsm

(

8

,

9

)

;

char

phone_no

[

]

=

"+91xxxxxxxxxx"

;

Serial

.

print

(

"AT+CMGF=1\r"

)

;

Serial

.

print

(

"AT+CNMI=2,2,0,0,0\r"

)

;

unsigned

short

sentences

,

failed

;

for

(

unsigned

long

start

=

millis

(

)

;

millis

(

)

-

start

<

1000

;

)

{

while

(

Serial

.

available

(

)

)

{

if

(

Gsm

.

available

(

)

>

0

)

{

textMessage

=

Gsm

.

readString

(

)

;

textMessage

.

toUpperCase

(

)

;

//www.justdoelectronics.com
When You Press the Push Button This Condition Will Happen
1

2

3

4

5

6

7

8

9

10

11

12

13

14

15

16

17

18

19

20

21

22

23

24

25

26

27

28

29

30

31

32

33

34

35

36

37

38

//www.justdoelectronics.com

gps

.

f_get_position

(

&

flat

,

&

flon

,

&

age

)

;

Gsm

.

print

(

"AT+CMGF=1\r"

)

;

Gsm

.

println

(

"Alert I need help............."

)

;

Gsm

.

print

(

"http://maps.google.com/maps?q=loc:"

)

;

Gsm

.

print

(

flat

==

TinyGPS

::

GPS_INVALID_F

_

ANGLE

?

0.0

:

flat

,

6

)

;

Gsm

.

print

(

flon

==

TinyGPS

::

GPS_INVALID_F

_

ANGLE

?

0.0

:

flon

,

6

)

;

//www.justdoelectronics.com

Serial

.

println

(

"SMS Sent"

)

;

Gsm

.

println

(

"ATD+91xxxxxxxxxx;"

)

;
Code 2
Here You Put Your Mobile Number
char

phone_no

[

]

=

"+91xxxxxxxxxx"

;
Then You Upload The Final Code
1

2

3

4

5

6

7

8

9

10

11

12

13

14

15

16

17

18

19

20

21

22

23

24

25

26

27

28

29

30

31

32

33

34

35

36

37

38

39

40

41

42

43

44

45

46

47

48

49

50

51

52

53

54

#include <SoftwareSerial.h>

#include <LiquidCrystal_I2C.h>

LiquidCrystal_I2C

lcd

(

0x27

,

16

,

2

)

;

SoftwareSerial

Gsm

(

8

,

9

)

;

char

phone_no

[

]

=

"+91xxxxxxxxxx"

;

Serial

.

print

(

"AT+CMGF=1r"

)

;

Serial

.

print

(

"AT+CNMI=2,2,0,0,0r"

)

;

pinMode

(

3

,

INPUT_PULLUP

)

;

lcd

.

print

(

"Network....... "

)

;

lcd

.

print

(

"Woman Safity"

)

;

lcd

.

print

(

"System...!!"

)

;

unsigned

short

sentences

,

failed

;

for

(

unsigned

long

start

=

millis

(

)

;

millis

(

)

-

start

<

1000

;

)

{

while

(

Serial

.

available

(

)

)

{

if

(

Gsm

.

available

(

)

>

0

)

{

textMessage

=

Gsm

.

readString

(

)

;

textMessage

.

toUpperCase

(

)

;

Serial

.

println

(

"** No characters received **"

)

;
When you press the Push Button
1

2

3

4

5

6

7

8

9

10

11

12

13

14

15

16

17

18

19

20

21

22

23

24

25

26

27

28

29

30

31

32

33

34

35

36

37

38

39

40

Serial

.

println

(

"Button Press"

)

;

gps

.

f_get_position

(

&

flat

,

&

flon

,

&

age

)

;

lcd

.

print

(

"Sending location"

)

;

lcd

.

print

(

"To Base...."

)

;

Gsm

.

println

(

"Alert I need help "

)

;

Gsm

.

print

(

"http://maps.google.com/maps?q=loc:"

)

;

Gsm

.

print

(

"Latitude = "

)

;

Gsm

.

print

(

flat

==

TinyGPS

::

GPS_INVALID_F

_

ANGLE

?

0.0

:

flat

,

6

)

;

Gsm

.

print

(

" Longitude = "

)

;

Gsm

.

print

(

flon

==

TinyGPS

::

GPS_INVALID_F

_

ANGLE

?

0.0

:

flon

,

6

)

;

lcd

.

print

(

"location Sent"

)

;

lcd

.

print

(

"Our System "

)

;
Code 3
Before uploading the Code Just Add 3 library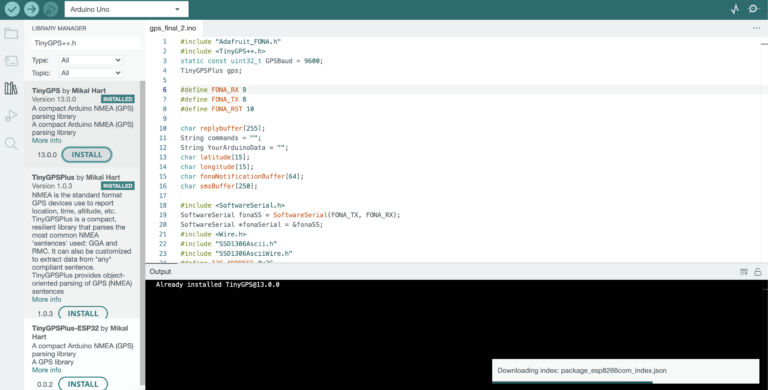 Now We Upload the Final Code
1

2

3

4

5

6

7

8

9

10

11

12

13

14

15

16

17

18

19

20

21

22

23

24

25

26

27

28

29

30

31

32

33

34

35

36

37

38

39

40

41

42

43

44

45

46

47

48

49

50

51

52

53

54

55

56

57

58

59

60

61

62

63

64

65

66

67

68

69

70

71

72

73

74

75

76

77

78

79

80

81

82

83

84

85

86

87

88

89

90

91

92

93

94

95

96

97

98

99

100

101

102

103

104

105

106

107

108

109

110

111

112

113

114

115

116

117

118

119

120

121

122

123

124

125

126

127

128

129

130

131

132

133

134

135

136

137

138

139

140

141

142

143

144

145

146

147

148

149

150

151

152

153

#include "Adafruit_FONA.h"

static

const

uint32_t

GPSBaud

=

9600

;

String

YourArduinoData

=

""

;

char

fonaNotificationBuffer

[

64

]

;

#include <SoftwareSerial.h>

SoftwareSerial

fonaSS

=

SoftwareSerial

(

FONA_TX

,

FONA_RX

)

;

SoftwareSerial *

fonaSerial

=

&

fonaSS

;

#include "SSD1306Ascii.h"

#include "SSD1306AsciiWire.h"

Adafruit_FONA

fona

=

Adafruit_FONA

(

FONA_RST

)

;

uint8_t

readline

(

char

*

buff

,

uint8_t

maxbuff

,

uint16_t

timeout

=

0

)

;

oled

.

begin

(

&

Adafruit128x64

,

I2C_ADDRESS

)

;

oled

.

setFont

(

Callibri11_bold

)

;

Serial

.

println

(

F

(

"FONA SMS caller ID test"

)

)

;

Serial

.

println

(

F

(

"Initializing....(May take 3 seconds)"

)

)

;

if

(

!

fona

.

begin

(

*

fonaSerial

)

)

{

oled

.

print

(

"Couldn't find SIM "

)

;

Serial

.

println

(

F

(

"FONA is OK"

)

)

;

fonaSerial

->

print

(

"AT+CNMI=2,1\r\n"

)

;

Serial

.

println

(

"FONA Ready"

)

;

oled

.

println

(

"SIM Ready"

)

;

char

*

bufPtr

=

fonaNotificationBuffer

;

oled

.

print

(

fonaNotificationBuffer

)

;

}

while

(

(

*

bufPtr

++

!=

'\n'

)

&&

(

fona

.

available

(

)

)

&&

(

++

charCount

<

(

sizeof

(

fonaNotificationBuffer

)

-

1

)

)

)

;

if

(

1

==

sscanf

(

fonaNotificationBuffer

,

"+CMTI: "

FONA_PREF_SMS

_

STORAGE

",%d"

,

&

slot

)

)

{

if

(

!

fona

.

getSMSSender

(

slot

,

callerIDbuffer

,

31

)

)

{

Serial

.

println

(

"Didn't find SMS message in slot!"

)

;

Serial

.

print

(

F

(

"FROM: "

)

)

;

Serial

.

println

(

callerIDbuffer

)

;

if

(

fona

.

readSMS

(

slot

,

smsBuffer

,

190

,

&

smslen

)

)

{

Serial

.

println

(

smsBuffer

)

;

Serial

.

println

(

commands

)

;

if

(

commands

==

"get loc"

)

{

YourArduinoData

+=

(

"https://www.google.com/maps/place/"

)

;

YourArduinoData

.

concat

(

latitude

)

;

YourArduinoData

.

concat

(

","

)

;

YourArduinoData

.

concat

(

longitude

)

;

Serial

.

println

(

YourArduinoData

)

;

YourArduinoData

.

toCharArray

(

message

,

51

)

;

if

(

!

fona

.

sendSMS

(

callerIDbuffer

,

message

)

)

{

Serial

.

println

(

F

(

"Failed"

)

)

;

Serial

.

println

(

F

(

"Sent!"

)

)

;

oled

.

println

(

"Location Sent!"

)

;

if

(

(

fona

.

deleteSMS

(

slot

)

)

||

(

fona

.

deleteSMS

(

1

)

)

||

(

fona

.

deleteSMS

(

2

)

)

||

(

fona

.

deleteSMS

(

3

)

)

)

{

fona

.

print

(

F

(

"AT+CMGD=?\r\n"

)

)

;

if

(

Serial

.

available

(

)

>

0

)

if

(

gps

.

encode

(

Serial

.

read

(

)

)

)

if

(

millis

(

)

>

5000

&&

gps

.

charsProcessed

(

)

<

10

)

{

Serial

.

println

(

F

(

"No GPS detected: check wiring."

)

)

;

oled

.

println

(

"No GPS detected: check wiring.."

)

;

oled

.

print

(

gps

.

date

.

month

(

)

)

;

oled

.

print

(

gps

.

date

.

day

(

)

)

;

oled

.

print

(

gps

.

date

.

year

(

)

)

;

oled

.

print

(

gps

.

time

.

hour

(

)

)

;

oled

.

print

(

gps

.

date

.

day

(

)

)

;

oled

.

print

(

gps

.

time

.

minute

(

)

)

;

dtostrf

(

gps

.

location

.

lat

(

)

,

8

,

7

,

latitude

)

;

dtostrf

(

gps

.

location

.

lng

(

)

,

8

,

7

,

longitude

)

;
Demo Of Project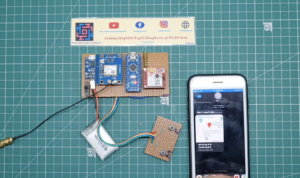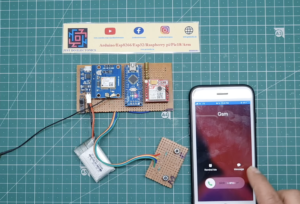 Video Tutorial